One of the many unexpected if oddly welcome  blossoms from the current lockdown era has been an increase in the quality of listening. The teenaged neighbours' shouts at a bleepy-bloop video game, the burrrrrr of a truck engine outside the window, the whirl of a fan; all tangle with the sounds emanating through my speakers at various times throughout the day. Sometimes it's a distraction, and sometimes such noises are mere counterpoint; my quality of listening has, in any case, deepened in a way I couldn't have foreseen twelve months ago. I want to think I will keep this heightened listening as a new normal unfolds, but I am scared of what such a gift (is it that?) might entail; the thought of returning to a live forum is both exhilarating and frightening. It's strange to contemplate such a transformation, since I am already what could be called a close listener, and as a result, I don't – can't – usually play "background music" in performing most tasks, because whatever is intended to act as "background" tends to become foreground very quickly. I've lost count of the knife wounds to fingers and hands as a result of listening while making dinner, for instance; cooking and classical is not always a wise mix. I was a musician long before I was a writer, after all, and my love of words and music only intensified through the direct experience of being onstage in both musical and theatrical capacities.
Such elements doubtlessly have fuelled my love of lieder, an art form which demands close listening, and one I've written about in the past. Made famous by Schumann, Brahms, Wolf, and especially Schubert, the art of song asks something quite specific of its listeners: an understanding of the text, combined with an imagination recalling theatre, and an appreciation of the role of sound. Scansion becomes (arguably is a key part of) comprehension as much as actual dictionary definitions; the feel of words in the mouth and tonal resonance of sound in the chest render an inner truth in which the sensual and the spiritual might blend. It is impossible to simply "churn it out" with such an art form. Lieder is not about immediate thrill or satisfaction, thrilling though some of it can be; rather, it is a slow burn, a stew of words, sounds, rhythms, and resonances, delivered via the simple bowl of voice and (usually) piano. There is nowhere to hide with the art form; soloists are utterly exposed, and, I would argue, so are listeners. Such vulnerability is part of lieder's appeal. Schubert's famous song cycle Winterreise (1828) has enthralled (and frightened) many a soloist, and is considered by many as a "Mount Everest" of the art form. The work has enjoyed multiple recordings and inspired various iterations; a "composed interpretation" by Hans Zender (1936-2019) from 1993, for instance, has been complemented with a creative choreographed version by Christian Spuck at Ballet Zürich. Lieder can be elastic, but its requirement – close listening – is still very much extant. Tenor Ian Bostridge has written in relation to Zender's recomposed Winterreise, which could well be applied to the entire art form, that it is "a work that offers us a conversation – and sometimes a confrontation – between the past and the present."
That's a notion wholly applicable to the work of Hans Gál (1890-1987), whose works are enjoying a deserved revival, with Hidden Treasure: Hans Gál's unpublished Lieder (BIS Records) being part of this renewal. The album is a collection of 26 songs released this past January and featuring bass baritone Christian Immler and pianist Helmut Deutsch. Gál's songwriting is itself a conversant with time and its passing, with touches of the past (Schumann and Brahms), the composer's contemporary present (Zemlinsky, Strauss), and possible future (Stravinsky's neoclassical compositions). Gál enjoyed great success as a composer in his native Austria and was awarded the Austrian Art Prize in 1915. His opera Die heilige Ente: ein Spiel mit Göttern und Menschen (The Sacred Duck: A Play With Gods And Men) was written in 1920-21 and premiered in Düsseldorf in 1923 under the baton of George Szell; it went on to enjoy productions in numerous German-language houses across Europe, and a special status as the first contemporary opera to be broadcast by Österreichischer Rundfunk (the Austrian broadcasting corporation). He became director of the Mainz Music Academy in 1929 on recommendations of both Wilhelm Furtwängler and Richard Strauss. With the Nazi rise to power, however, Gál, as a Jewish artist, faced censure. Die beiden Klaas (Rich Claus, Poor Claus), his fourth opera, was to have been staged as a double premiere (in Hamburg and Dresden) in 1933, but the piece, like many others, was cancelled. (It was only performed in 1990, in an English translation by York Opera.) Gál fled Europe in 1938, travelling to the UK; in 1940 he was interned as an "enemy alien." He later went on to teach at the University of Edinburgh, (1945-1965) and became a respected member of the Edinburgh music community. His output was considerable: two large cantatas with orchestra, four operas, four symphonies, four string quartets, numerous piano works, and an array of orchestral and vocal works. A chamber version of Die heilige Ente was presented by Oper Köln in 2007, and a full revival at Sophiensæle Berlin in 2012.
Various listenings of Gál's works, symphonic and vocal, have been undertaken with a far greater degree of focus and concentration than could have been imaginable in February 2020. There is a far deeper appreciation of the interplay between words and sounds, an integration I suspect was purposeful on the composer's part. As Christian Immler remarked to me recently, Gál had "first-rate taste" in his texts. The poems Gál set to music are both timely and timeless, and contain thematic elements which hold a dualistic tension between the desire for solitude and the need for community, between the pain of isolation and the pain of congregation. In a recent article for Gramophone, Immler outlined Gál's connection with text and describes the feeling of learning music which hasn't been heard for over a century as "a powerful combination of curiosity, pioneer spirit and obligation. One is indeed living history!" Immler is himself a highly accomplished singer and soloist, known for his Baroque work as much as for his explorations of early 20th century repertoire. A member of the famed Tölzer Knabenchor (boys choir) in youth, Immler has worked in an array of classical idioms, including oratorio, opera, and lieder, singing the work of Monteverdi, Handel, Rameau, Steffani, Graupner, Weber, Mozart, Zemlinsky, and most especially Bach (the Passions are something of a specialty). He has worked with an array of conductors as well, including René Jacobs, William Christie, Raphaël Pichon, Marc Minkowski, Ivor Bolton, Masaaki Suzuki, Philippe Herreweghe, and Nikolaus Harnoncourt, the latter of whom he speaks about in glowing terms as part of our exchange, below.
In 2003 Immler was part of Continental Britons: The Émigré Composers (Nimbus Records), a collection of works from Jewish composers forced to flee Europe in the 1930s and 1940s. With pianist and Professor Erik Levi, Immler performed Hans Gál's Fünf Melodien (Five Songs) for middle voice and piano, 1917-1921), Op.33, a collection which, at the time, was believed to be the composer's only known lieder work. The cycle was recorded again for the 2011 album Modern Times (Cavi Music), featuring Immler and Helmut Deutsch. Similar to Émigré, Modern Times features the work of composers labelled "entartete" ("degenerate") by the Nazis. It was this album which first caught my attention roughly a year ago, for its breadth of inspiring content as much as the palpable chemistry between its performers. The music (of Korngold, Eisler, Grosz, Goldschmidt, Schreker, Zemlinsky, and Gál's collection of five songs) is performed with deep sensitivity and that unique feeling for text joined with sound; it's as if Immler and Deutsch are reading one another's thoughts – not "breathing together," mind you, but with distinct visions and voices, in an energetic comprehension at once imaginative and intellectual.
(That "breathing as one" phrase is one, by the way, Deutsch himself writes about in his lately-released memoirs, published in English through Kahn & Averill; my interview with Helmut, about his memoirs, about Gál and working with Immler, and about much else, is coming soon. Stay tuned.)
Hidden Treasure came about through a meeting with Eva Fox-Gál, the composer's daughter, after a live concert years ago, at which time Immler and Deutsch were made aware of the existence of the collection. Immler recalls her hesitancy to grant permission for the recording of the unpublished songs, the feeling being that her father never intended for them to be heard in public. The singer, together with Deutsch, made a recording in the pianist's own living room of a selection of the unpublished works and sent them to her. This initiative, combined with the composer's rising prominence in other recordings and media (including those by conductor Kenneth Woods and the English Symphony Orchestra and Royal Northern Sinfonia; Gál was also BBC Radio 3's Composer Of The Week in 2014) convinced the family that, as Immler put it, the Lieder would be properly contextualized within the composer's larger compositional oeuvre. The 26 songs featured on Hidden Treasure were written between 1910 and 1921, with the album including the Op.33 song cycle. The poetry of Heinrich Heine, Herman Hesse, Christian Morgenstern, Rabindranath Tagore, Richard Dehmel, Hans Bethge, Walther von der Vogelweide is given shining prominence here; already possessing a thoughtful musicality, Immler's textual and vocal flexibility highlights his own deep listening, to both the music enveloping those words and to Deutsch's virtuosic playing. The artists have worked to create a beautiful album, one to be slowly savoured over repeated instances, aided by the heightened listening skills the pandemic era has mysteriously (or not) endowed.
My chat with Christian Immler began by discussing writing and discovery,  and moved on to possibilities for our very own "modern times", and if he feels like an ambassador for the music of Hans Gál.
The lockdown seems to have provided a perfect listening opportunity for Gál's work, and for the work on the album more specifically.
People have more time now, and I think they finally said, "Okay I have to sort my stamp collection, I have this to do and that, now I really have to sit down and understand what the opening theme in this Beethoven means" – and if not now, then when? People start to listen in new ways. My wife is also a musician and pianist, she's' very much into storytelling, and there are a lot of evenings she'll just listen to various broadcasts– my mother would do and grandmother as well; they would sit and just listen.
That form of deep listening is certainly required for this collection. Is it true this album grew out of your live experience?
 My very first experience of Gál's music was of his Opus 33 collection; I did them with Erik Levi, who is kind of the authority – he is a dear friend, extremely knowledgeable, he's also Visiting Professor in Music at Royal Holloway College. That performance was at Wigmore Hall (in 2002). The one with Helmut Deutsch was at King's Place (in 2010), a beautiful hall in London, and then after that, we put part of the Gál songs onto Modern Times. But Helmut and I met Eva Fox-Gál, the daughter of Hans Gál; we went to her house in York and looked through a lot of manuscripts and had a visit – there's a beautiful garden, I remember that well. Gál's original piano isn't there, it is with his grandson Simon, who recorded (Hidden Treasure), but there, in the collection, are songs which might be more for a woman, it's difficult to say, not because it talks about a woman, but in terms of style. And what was a bit difficult was finding enough variety, because also they're quite slow songs, darkish songs, slightly melancholic songs. We were happy to find things which moved along to lighten the mood. I had a certain order in mind as I do this with all my recitals.
That's what you did here? Ordered them as you would a recital?
That's what we did here, but I wanted "Lady Rosa" as the opener. First of all I *love* the name, it's just wonderful,"Lady Rosa" – you want to just say it out loud! – and this song, it sounds so simple but it has… you, the singer, must keep in this very specific way, and with the piano in rhythmic proportion; the (vocal line and instrumental line) are not *quite* coming together. It's a wonderful song and that had to be the first one, I insisted, but other than that, we played around. We left the huge stuff to the very end, which in some recording sessions is risky.
That choice implies a clear narrative line. The selection of poetry is notable – for instance, the Morgenstern works are a nice microcosm of the album's themes of dark and light. And you have a style which elucidates the text really well.
Gál had a first-rate taste in texts! That is unlike some very well known composers, I'd say, who had a very mixed success rate in doing so – just think of Brahms. I love some of his work, but some of the texts are a bit… hmmmm…. ! But with Gál, his daughter told me a few things, like for instance he helped with editing some Schubert and Brahms works with his friend and mentor, Eusebius Mandyczewski (1857-1929), who himself was a friend of Brahms. (Mandyczewski and Gál co-edited Brahms' complete works in the early part of the 20th century.)
Now, if you transcribe stuff in front of you and you can read music, then that music is absorbed by the system of the body, and at such a young age when everything goes in like a sponge… well. I was astonished the manuscripts are super-neatly written. Remember a lot of these songs were written during war-time, so 1917 or so, and he had bursts of energy like Hugo Wolf or Robert Schumann, where he would write five songs in five days – which doesn't sound like much, but he was a soldier then, and I find such an activity within this context highly fascinating. Those manuscripts are super-neatly written; he must've been a very disciplined person, and had huge integrity as a writer. I put the question to Eva, if he was ever interested in the risqué poems, like those by Richard Dehmel written twelve years earlier, which Schoenberg had set to music (Verklärte Nacht) which talks about premarital sex and two people walking alone in the night. Eva said her father was never interested in second-guessing; his audience should always know how to receive something. He didn't want to create ambiguity…
… which is unique, considering how many of his fellow contemporary composers were. He really went against the grain. 
Well according to his contemporaries. he was very disciplined, he was a really hard worker, he had a kind of ironic sense of humour which might've endeared him to (the work of) Heinrich Heine, but he was quite a serious person, and could play anything by heart. You can see it in the photos; his is not a face who is up for a lot of extramarital craziness, for instance, but is very dedicated to his work – and so I think this direct writing style was enough for him. He wanted to stay true to himself and I don't think he was… you know, there were people who were constantly on the lookout in terms of, "How can I make this more lush? Or make this even more tonally modern modern?" Gál  never went into twelve-tone music, for instance…
… which is also notable.
Yes. And with some songs (by other composers), you think, "Well, what shall I do here? Do I need to do a bit of magic here if I don't want to put the pedal down?" And that's not the case here (on Hidden Treasure) at all. It's direct.
Gál's's music is direct and creative at once.
Yes! The harmonic changes for example, in "Vöglein Schwermut", whoah! We performed it several times onstage and you can hear a pin drop at the end. In the concert hall there is just silence at this moment! (Gál's writing) goes up in the piano, and when Helmut plays it, you hold your breath, literally! I'm so, so grateful for this collaboration – Helmut and I are good friends, and when I asked him first if he was interested in doing a recital I expected, you know, "Let me get back to you" but he said, "Sure, why not?" He deals with what's in front of him and is an excellent sight-reader – I have so many scores of music here at home which at one point when I can travel again, we'll look through in Vienna. Luckily he's very interested in Gál's music – he loves doing it, and of course he loves Winterreise, but if you've played it five hundred, or I don't know, a thousand times now like he has – it's like for me and St. Matthew Passion: I love it, but if anything else comes along, that's where my energy would go at this moment.
I wonder if the things Bach gives a singer might help with performing early 20th century music; do you think your Baroque experience helped you with Gál?
Yes and no. What certainly helped me which I will always be grateful for, is the discipline you learn in a boys' choir – I was in the Tölzer Knabenchor, and it was there I got to know (Nikolaus) Harnoncourt, when I was nearly eleven years old. You have to get used to traveling at a very very early age and just to deliver something in the evening, nobody's interested in your personal little worries or whatever; you learn the trade if you do it early, and by simply being there, you absorb a lot. I think that experience was helpful to learning Gál. Now, if you are in the vicinity of someone like Harnoncourt, who had this total dedication to what's in front of him, even better. I did a St. Matthew Passion with him years later as an adult; this was a few years before he passed away. So it went full circle! I couldn't sleep for two days afterwards, I had so much adrenaline – we did it in the Musikverein where we rehearsed. Sometimes I had to pinch myself it was really happening.
But the discipline one learns was useful, and without wanting to sound kind of arrogant… well, it's very difficult to teach how to phrase, or how to conduct a phrase. You can show it to somebody but ultimately it has to be felt, and understood, and conceptualized, but *not* on an intellectual level. And for instance, Harnoncourt combined this enormously intellectual approach – he knew everything and would discuss everything with everybody, not a big deal – with such a level of understanding. Onstage he was 100% a musician. He knew about that sort of Baroque phrasing, where you go somewhere and come away, I think, with this sort of sensuality for phrasing, so for any vocal repertoire, especially that of Gál, it really struck me (in recording the album) that I never had to help the vocal line; it has a natural flow. It *can* be challenging in that it leads you up and you think, "Oh, I need to work!" but it always makes sense. And having Helmut is like having a carpet under you anyway. He and I didn't actually talk about interpreting when we rehearsed these songs – we don't really talk about it anyway, but *especially* for this. There was just one song where we had totally different tempos in mind, but that was the only thing, the only time. Gál, certainly, had the experience (in vocal writing), he had good training with a cappella ensembles wherever he was, in Vienna and in the UK; he was looking for an older idiom and he found it. In things he wrote in 1917 you can totally hear, in some of the songs, the actual piano part becoming an extended orchestral section, and when you hear this, as a singer, you know you really need to go for it then.
Did you ever feel Helmut were sonically competing at points? There are times when things don't resolve the way we're expecting as listeners, and it's almost like vocals and piano are at tension.
I can confirm onstage, in the recitals I did with Helmut, there's always an edge to him and he always makes noise when he plays – you can hear it on the recording too, he kind of does this "mmmnnnmmm" – like, "Helmut, shhh!!" But onstage, he is really negotiating and renegotiating the percussive element of the piano. He is a master in that and I simply do not want to play with pianists anymore who play works just as-is. The piano is a percussive instrument through which you can only create the illusion of line, and Helmut knows this; he sings all the time, he has this kind of forward approach, for which I'm grateful. We did Korngold (works) together, and (those of) Zemlinsky also, and if you start to become free floating in space, and take rubati whenever you want… no, it needs to come to a time from which you steal, rubato, you steal it *from* something, which is an orderly arrangement. But if you create something which is a space-floating thing, no rhythm or tempo at all, you lose out, and Helmut is breathing with this understanding; he doesn't pull the entire structure apart. You *know* where to breathe. But it's challenge to be onstage with him! I will not deny, he will never play against you – he always has a big ear and can adjust if you run out of breath – but he won't make life easy. He keeps ploughing forwards, and so do I, and of course that's when the energy comes.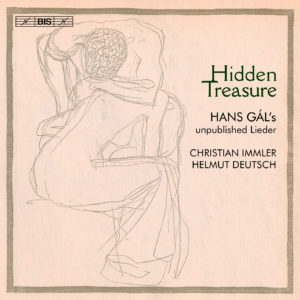 That's what this music demands – and the light/dark dualism of these songs has a corollary in the isolation/community themes which seem particularly meaningful right now.
It's very much of its time 100 years ago. I'm not big into the "Oh, this was written as an omen!" way of thinking, but I do think often about that time and what it means for our days. We had a good time until this tragic Covid hit; things were working, although it was a bit *too* fast, the pace, for me. I'm a workaholic also, and of course now that tendency totally crashed and… you know, you have to rearrange yourself, and then you think, "How can I be of use? For my family? For what?!"
In a way… yes. I find this time super super-interesting, and in fact I've never before had enough time to pursue it but now, I'm writing my Doctorate about the the song landscape between the two Wars, the interbellum times. There is so much repertoire which Helmut and I have discovered and will play through, but right now I can do a lot from home, and it keeps me busy. Maybe this is the time for the smaller things to become more known.
I recently wrote a formal feature about reductions and am considering doing something more about how this time might or might not change the nature of listening and live experience. Small is not ideal of course but it isn't necessarily bad either!
You should do it! I mean, I find Schoenberg's rearrangements of the Song Cycles of Mahler to be somewhat more interesting, and more to the point – they are just fantastic. I'm working with another pianist as well, and we are thinking about doing Korngold and Zemlinsky songs for a small ensemble – I have no idea why nobody's done it. For some of these songs it can take up to two minutes before you as a singer even open your mouth, they are *that* orchestral – and yes, you can do it in this reduced way.
But that means audiences have to readjust expectations, too, and organization need to be open to taking that risk in their programming.
It doesn't take long to re-train the ears but it takes a few times (of doing experimental things) to get people in. And there's a limit to doing reductions, in my opinion; some things make sense, others maybe not. But the time right now is ripe for experimenting; Schubert songs, of course, have been orchestrated by the best, but for a smaller ensemble there is something still, I think, to be done, and to bring it onstage in a more thematic way. I'm just dreaming here…
… and now is the time to do that, is it not? I feel like there's a place for Gál's music amidst all of this. Do you and Helmut feel like ambassadors?
We are! And we didn't become ambassadors because we had nothing else to do! It happens to be the case that both of us are interested in it but we don't have to record things which have mediocre quality which makes it much easier. Helmut and I have a little rating system which, independently, we use when we go through things; you have to be a bit careful as sometimes you miss the essence of a song the first time round. A lot of Gál's stuff is in Vienna, at the exil.arte Centre For Banned Music – things are literally just sitting in boxes there. Helmut is already in Vienna, so one day he and I went and looked through the archive of Gál's music. I know he's not so keen about going into twelve-tone music, but there's great stuff, and what I want to say is, with this experimentation, I want to do more CDs in this direction, first to take one slight step back and do things by Theodor Streicher (1874-1940; awarded the Großer Österreichischer Staatspreis in 1936) – who is a little bit like Hugo Wolf gone a bit crazy! – and then the work of Gál, which we did already, but then go one step further as well, into more tonally daring composers like Ernst Toch (1887-1964; awarded the Pulitzer Prize for Music in 1956 and the Order of Merit of the Federal Republic of Germany in 1958). The list of composers yet to explore is endless.
So you're an ambassador, not only for Gál but for the many composers like him.
I would think so! Helmut also has time, but we're not allowed to travel right now, but when we are, we will hopefully plan for this – and more.