Time, as Hugo von Hofmannsthal wrote in the libretto of Die Rosenkavalier, is a strange thing. It is an observation perhaps most applicable to the world of opera, an industry which continues to endure its fair share of slow-downs, speed-ups, and stand-stills since the start of the coronavirus pandemic in early 2020. It's on; it's off; it's on; people are sick, the show must go on; it's half-on, it's half-off; it's reduced, it's streamed; it's full capacity but "gosh, where is the audience?" is combined with "why aren't we moving tickets when we made such cool instagram videos?" and "let's invite some influencers because they'll bring the sexy young audience we really want!" Questions, queries, and marketing tactics aside, it is risk which is arguably foremost in audience minds: the risk of attending, but also the risk of experiencing something new, or something familiar, but in new ways. Literal risk may well scare some off (or simultaneously attract others), but figurative risk – creative risk – has the power to tempt long-time audiences back in the house, and bring a much-coveted demographic: newcomers. This positive outcome of risk calculation is one some houses are willing to dare, especially as a long, challenging winter draws closer.
Just how the element of risk manifests now is worth considering, especially given the bundles of new works being presented as part of the 2022-2023 season across various houses in North America and Europe. The Royal Opera is presenting a new opera by Oliver Leith about rock singer Kurt Cobain next month, and its entire run is already sold out. Some works, especially those with less of a direct reference to mainstream popular culture, may not be as much in the public consciousness (yet), but do have existing audiences, and do possess the kind of appeal which expands a work's fanbase, especially to literature and theatre lovers. Case in point: Medea, by Luigi Cherubini (1760-1842), opens The Metropolitan Opera's 2022-2023 season on September 27th. The 1797 opera is most famous, or at least has a fair measure of fame among opera aficionados, for its live recording featuring conductor Tullio Serafin and soprano Maria Callas from 1957. It has never been presented in The Met's history – not for lack of trying; in an essay at The Met's website, Associate Editor Jonathan Minnick details former General Manager Rudolf Bing's efforts to bring the opera, and Callas, to New York in the 1960s. The Met may well be hoping to make its own kind of history with the new production, directed by David McVicar and featuring Sondra Radvanovsky in the lead. A soprano known for her passionate work with bel canto roles (including Donizetti's Three Queens – Maria Stuarda, Anna Bolena, and Elizabeth in Roberto Devereux), Medea offers a very different set of shoes indeed, vocally and musically, though it may well be somewhat familiar territory for the level of dramatic intensity it demands. Radvanovsky will be joined by tenor Matthew Polenzani as the faithless Giasone, Janai Brugger as Glauce, Ekaterina Gubanova as Neris, and Michele Pertusi as Creonte. Historically, the Euripidean tragedy (431 BC) has been adapted for stage, television, and film, and has been an object of considerable study with relation to its themes of betrayal, obsession, family, feminism, and murder  – and rather interestingly, the work itself (the opera as much as the ancient Greek play) has a keen relationship to time, and the ways in which it speeds up, and/or slows down, at pivotal moments in one woman's life. Cherubini's score masterfully captures the drama inherent in such temporal shifts, using a deft combination of voices, strings, and woodwinds, as well as hectic passages and highly considered silences, to bring listeners into Medea's inner world; it is a world where time, its passing, and all that implies, stretches, stops, and twists amidst a tumult of conflicting emotions. Beethoven, who was a fan, called Cherubini "Europe's foremost dramatic composer"
Conductor Carlo Rizzi, who leads Medea performances at The Met, has been studying the score for well over a year. The drama of Cherubini's Medea, as he explains in our chat below, is sewn within Cherubini's orchestration and is a full partner with the vocal writing. Rizzi and I last spoke in September 2019, as the Italian conductor prepared to open the Canadian Opera Company's 2019-2020 season with Turandot, an opera he knows so well, he has (like other Puccini operas) conducted it from memory. Medea, of course, is a different thing as much for him as for the cast, including Radvanovsky, with whom he has previously worked. Originally written and presented in French and subsequently translated into German and Italian (frequently; The Met is using the 1909 Italian translation by writer Carlo Zangarini), Cherubini's version of the mythological vengeance story touches on a myriad of musical styles without entirely conforming to any of them: it isn't Classical; it isn't Romantic; it has elements of both. Medea is notable for not only its ferocious lead but for the unique musical language it utilizes to convey drama.
As Rizzi explains in our exchange, the orchestration of Medea is a key factor in conveying that drama. Getting the balance just right demands things you might expect, but multiplied several times over: patience; study; discussion; rehearsals; edits; more edits. The qualities needed for such responsibility – a passionate involvement and a forensic attention to detail – are ones Rizzi has meticulously developed across multiple projects, not least of which has been his work as Artistic Director of Opera Rara. With its mission on the restoration, recording, and performance of lost 19th and early 20th century works, the group not only gives an opportunity for opera history to be perceived and understood in broader ways, but allows for a far richer contextualizing of the "new" and "old" labels as applied to it, particularly within the realm of performance practices. One of their most celebrated released in recent memory was Ermonela Jaho's immense Anima Rara from 2020, which beautifully showcased little-known verismo arias, and won the vocal category at the 2021 International Classical Music Awards. Opera Rara's most recent recording is the one-act opera Zingari by Ruggero Leoncavallo (1857-1919), out 23 September via Warner Music. Based on a poem by Pushkin from 1827, Zingari premiered in London in 1912 to great success, although Leoncavallo made extensive cuts and revisions to the work throughout its various revivals in Europe and North America. Rizzi noted during a recent Opera Rara release event that Zingari and Pagliacci (Leoncavallo's famous 1892 work) share some structural differences, but Zingari, which Leoncavallo started writing in the early 1900s, is truly a thing apart, something the new recording emphasizes. He leads the Royal Philharmonic Orchestra with palpable verve, carefully colouring its gloriously rich passages with a warmth of tone and precision in phrasing.
The recording is a symbol of the extent to which opera has shaped Rizzi's career, as someone who has led rarities by a range of composers (including Giordano, Cimarosa, Bellini, Donizetti, Pizzetti, and Montemezzi) alongside well-loved works by Puccini and Verdi. Rizzi has served as Welsh National Opera's Music Director twice (1992 to 2001, and 2004 to 2008) and is its Conductor Laureate; he regularly appears on the podiums of Teatro alla Scala Milan, Opera de Paris, Teatro Real Madrid, Den Norske Opera and Ballet (Oslo), and The Metropolitan Opera in New York, where he has led over 200 performances. This coming season sees him conduct two more works at famed the NYC house – revivals of Puccini's Tosca (starting 4 October), and Verdi's Don Carlo (starting 3 November), before moving on to Paris, where he will lead works by Verdi (Il trovatore) and Gounod (Romeo et Juliet), and, in May, give an Opera Rara performance of Donizetti's 1828 opera L'esule di Roma (The Exile From Rome) at London's Cadogan Hall with the Britten Sinfonia. Rizzi and I spoke just prior to the release of Zingari, and, more immediately, the morning of a recent Medea rehearsal – about new works, old works, and the need to embrace risk, now more than ever.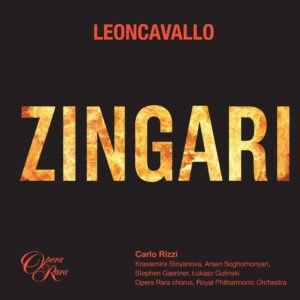 What was the process for recording Zingari amidst pandemic?
We did it in December 2021, at the end of the serious lockdown but still the world was mostly wearing masks and distancing. I've since done Il proscritto by Saverio Mercadante with Opera Rara; which we did in June. That was much easier, but still, some got covid, thankfully none in the cast, and here in New York now we are rehearsing with masks. Some of the singers are allowed not to wear the masks for stage rehearsals – some do, some don't – but the orchestra is all with masks.
While things are still so uncertain in the opera world, The Met's decision to open their season with Medea seems unique.
It's a situation I've never been in. Nobody has ever done it at The Met – nobody! So for the orchestra, chorus, me, singers, production, everybody, it's a new discovery – even though this opera is very well known, particularly for the Callas phenomenon – it's like there is a vacuum to fill, in a certain way. I sent some corrections to the Met Opera Library for the orchestra parts, something I have never had happen in opera before – it's a discovery for everybody. Saturday we did it for the first time with the singers, which was great – I discovered a couple things I wanted to modify in the orchestra, and so.
Do you feel like something of a trailblazer?
This is a good thing and also a great responsibility – because in a way, there is the freedom to do things, but then again, in this case there is this recording, this Callas thing, and of course many people will have only heard that, so "oh this is Medea " – well, actually no, this is Medea as she did it. Callas was Callas; now it's 50 years later, and there is all this sense of anticipation and responsibility. It's a big responsibility. I have to let the score speak to me, and in this particular opera it's been very different from the others because his is a language, Cherubini's, that is not very easy to classify. When you speak about Rossini, there is a certain way of writing to the voices with the support of the orchestra that you can identify – the same is true when you speak of Puccini or Verdi; if you think about an Traviata, okay, you can remember the Brindisi, the aria of the First Act, the duet in the Second Act. But here, in Medea of course there are those big arias and duets, but actually there is also a great interconnection in the drama between the voices and the orchestra. The orchestra is never a mere companion beside the voice, but a full partner. The orchestra players were talking about this recently – they feel in the middle of the drama with this opera. If there is a dramatic moment or a particular emotion a composer wants to express, of course it's in the singing but with Medea it's also fully in the orchestra.
There are some moments which I think are very clever; the character spends half ot the performance trying to get what she wants – to get revenge, of course – but she also wants to see her children. So there's the line of Medea and the first violin, which is expressive of the latter, but if you look at the viola part, there's something much more dark in it. When she says, "One day more" – the drama is in the scoring of the orchestra – Medea is, so to speak, in the orchestra. And I think that's very interesting, because it allows the decisions you make with the orchestra and singers to be much more unified. For me that's rewarding.
Cherubini's work sonically anticipates much future work…
Exactly.
… but it's interesting to consider that Medea premiered in French and is often performed in the Italian translation; what do you make of that? It's curious how translation has the power to change received meaning and experience.
That is a huge question! The translation, per se, is not for me the most difficult thing, but there is some quirkiness to it. It's for the simple reason that in Italian, always, basically, the accent is on the penultimate syllable, and in French the accent is on the last syllable. We do the (sung, in this version) Italian recitatives in this production. Now, one could say, "Why don't you do them spoken in French?" – and sure, we could, but it's the Italian version, and the recitatives are where the drama happens. The drama is never in an aria alone – what happened before and what happens after matter as much. The recitatives enhance the drama, beginning to end. Medea is so dramatic in her minimalism. She doesn't come in flaming on a dragon – there is just a simple sound and simple chord: "where is the traitor?" It's amazing, this moment, it's so anti-operatic in a way, but totally, utterly dramatic. So taking the lead from what Cherubini wrote in these passages, I think, personally, that these recitative sections hold the drama of the piece; it all hangs on how those are performed.
You're right regarding the translation – another opera I'm doing here later, Don Carlo, has the French version and Italian version – and there are differences in the ways that text is approached although written by the same composer. I grew up with Don Carlo in Italian, it's what I've heard forever. When I did it in French at one point, or rather at certain points, things made more sense. The Italian (version) again, is not terrible – but in French, you can hear the meaning. We can discuss until the cows come home if we should do this only in French now, but I believe we can do both.
So the translation isn't so central as to change the core meaning?
Sort of. What I've noticed, in studying both the French text and the Italian text, is yes, there are some differences. Sometimes you get translations of operas where, in the original language a character says one thing, and that comes out totally another thing in the translation – that is not the case with this opera! I think sometimes the (textual) quirks are there because (Carlo) Zangarini, as an Italian, was trying to keep the French line, the French text. The important thing to remember is that composers tend to think of certain words to give the apex of a phrase, it's not just a question of translating it straight over. For example, if you take Rodolfo's famous aria in Bohème, the word "speranza" is important, it's everything Rodolfo hopes for, it's why it's a top C right there – but if you translate that word into another language, it changes the way everything lands. For Cherubini the drama isn't on one note; the technical writing is less involving this apex which was common to Romantic aria writing, and is more focused around the development of the aria by the different orchestral sections. It's instrumentation which brings characters to say certain things, including the moments with Medea and Giasone. You can hear it one way, or in another way, with the voice or with the orchestra, or both, so it's like circles of relating.
You have worked with Sondra Radvanovsky a few times, including a lot of work in bel canto repertoire; what's been your experience now?
I do find working with her so rewarding. The past times we've worked together, like in 2017 with Norma among many other performances, she would know those roles in her body, not only in the notes. This isn't the bel canto she's used to doing, and as I said before, it's a discovery for everybody. Yesterday after rehearsal she and I were still discussing and exchanging ideas of how to more clearly project a certain kind of personality at a certain point rather than another kind at other moments – and all this energy comes together at a certain point: through the next rehearsals; with some technical things like portamento; where she goes into chest for a certain phrase, or if it's more legato, or more a conversational sort of style; all these things are things we constantly discuss. It's a project that is a work-in-progress, because again, it is the first time everybody has done it. We'd be foolish to come in and say, "This is the way we have to do this" when there are different and better ways.
How do you see Medea fitting within your overall opera oeuvre?
It's interesting because Medea is something that never happened in my life – well, maybe when I was very young – but this is my fifth new opera in a row this year. It's been bloody hard work – it's not just opening the score and doing it! I started with Cendrillon (Massenet), then I did Il Proscritto (Mercadante) then I due Foscari (Verdi), then Rossini's La gazzetta, and now Medea. For me personally it's been a period of a lot of study, I can tell you, but also challenging in a positive way, especially after the covid lockdowns. It's been very welcome. Now I'm happy doing something I've done before too. So often people think, "What do conductors do? What do they really do?" And, fine, if you have a good technique you can read and conduct something within three days – but truly, it requires more. Being a conductor requires a real maturation, and only time gives that. You have to know to start studying early – I started on Medea more than a year-and-a-half ago. You think about it; you read; you mark it up; you go away; you come back; it's been a great period, but it's been very busy also.
It brings to mind something Alexander Neef said to me in 2020, that the pandemic era is ideal for presenting new things to audiences – for risk.
That's very true. A related silver lining of this era is that we had the time to sit and study these things. Also, it has to be said, that even if everybody did the Zoom performances, the distanced performances, it comes out at the end that nothing can compare to, nothing can overtake the feeling of being at a live performance. That means there is a desire to have new things, to do new things, to not just do the same old things, and not to do them in such a comfortable way as before. We don't take it for granted – because now we know: nothing is guaranteed anymore. So fine, let's take it as a positive from the situation, and keep doing things this way, and hope the public will come back and not be fearful, and start to enjoy it again, and abandon one's self not only to the music but visual art, to dance, to cinema, and so on. It's why we're making art.
Top photo: Carlo Rizzi rehearsing Zingari with the Royal Philharmonic Orchestra, December 2021. Photo: Simon Weir / Opera Rara.