Beethoven was one of the first composers whose works I was determined to play on the piano. His works were  butterflies I aimed to net, stare at, make my own, and release anew, knowing they were never wholly mine to keep. He asked all of me as a young player. When I felt I couldn't give anymore, he kept asking, nay, barking, anyway, for more, ever more, to push past my perceptions of limitation. Some days I felt defeated, other days, prodded, needled, poked, as if this long-dead, stern-looking German man was wielding a little stick aimed straight at my pride, those two opening notes of his Third Symphony like sharp jabs at the ribs urging, "Weiter gehen!" ("Go further!"). It was a sentiment voiced loudly by my mother, who didn't take kindly to sighing silences or creative keyboard noodling.
"Back to Beethoven," she would say, as another moan of desperation rose from the Baldwin grand. "Back to your work."
"I can't do it!"
"You can so; work it out. Do it. You're not finished."
I sit at a different kind of keyboard now, still alternating between silence and silliness. The act of pushing against perceived limitations is a feature of any creative life, the act of "return" rendered a million different ways; such recognition, and the change borne from it, matters as much as the act itself. Get back to Beethoven; you're not finished. And so I did return, investing in a Bärenreiter edition of Beethoven's symphony scores last year, edited by Jonathan Del Mar. The music of Beethoven has been with me for so long (one of the first orchestral performances I remember attending was his Sixth Symphony), so owning them seemed like a logical step. However, the act of going through them initially kicked open doors to questions which heretofore hadn't been so stark, so bug-eyed, so snitty and snotty and snide: what could I, sans music degree, sans formal Conservatory education, sans musicological knowledge or direct orchestra-playing experience, possibly have to say, write, or contribute? What was I hoping to prove?
Yes, I've been to the Pasqualatihaus, and yes, I know so many works by heart, as it turns out; they are not monoliths to me but shards of someone's soul – questioning, conflicted, difficult, a flickering wall of stained glass, some of it cracked – but what do I know? What value does my voice have, if any? Whose validation am I seeking, and why? Was (Is) my mother's energy making itself felt across the decades? Studying Beethoven's symphonies has meant wrestling with demons; like sitting at the piano years ago, some days are better than others, and some days the voices are louder, or softer, depending on just how much I choose to dampen that pedal, open that door, stick to the task at hand. Consistency has been a good way to exercise curiosity, to push against the limitations I feel so often hampered by and judged over. Perhaps I should pay more attention to the softer voice at that cracked stained-glass window whispering that even without knowing the technical names for certain aspects, I can still intuit the larger things they hope to express – and there is value in that. The language may be lacking, but the components that both anchor and surpass that language (curiosity, commitment, compassion) are not.
Months of studying scores has also highlighted, however inadvertently, the extent to which Beethoven is largely misunderstood and misrepresented in popular culture. One's perceptions of any artist will understandably alter throughout time, experience, maturation; I once thought of the composer as a true and admirable revolutionary (indeed a youthful projection), whereas I think of him lately as largely shaped and informed by a deeply religious  and conservative faith, an aspect composer James MacMillan explored in a chat for The Spectator. This specific spiritual side of the composer isn't as widely explored as perhaps it ought to be, which is a pity; it goes against the rebel-image of course, but understanding the immense role of religion greatly expands one's appreciation – of Fidelio, some symphonies, and various choral works like Missa Solemnis, to say nothing of the many subsequent works inspired by them, MacMillan's oeuvre included. Again, the religious Beethoven doesn't gel with (and perhaps isn't as easy a sell as) the Frowning Rebel Genius, which is of course so tied to the trend of 'cancelling' him. The clichéd version of Beethoven which tends to live in the popular imagination is one based not on knowing scores or history, but on programmatic oversaturation tied to the realities of contemporary box office sales, a reality which so rarely (if sadly) actualizes any real responsibility to intelligently and challengingly link needed contextualization with performance and modern repertoire in any enlightening way. There's something frightening to many contemporary programmers about intelligence, about asking audiences to read, learn, grow, to be surprised and yes, to be challenged and forced to contemplate, as if such activities are a collective form of elitism; rather interestingly, that is one thing not evident (at least to this student) in Beethoven's actual output. What with Beethoven's 250th birthday celebrations largely called off because of COVID in 2020, perhaps his 251st will be marked by brighter pathways to more adventurous programming tying context, music, and history more closely together in a spirit of creativity, curiosity, and pushing those limitations. One can hope.
Writer Jessica Duchen is very skilled at linking such things, and doing so in ways that beguile and delight. Her latest novel, Immortal (Unbound), uses the famous "Immortal Beloved" story involving Beethoven as a jump-off to more fully explore the man, his times, his loves, and his music. Released in late 2020, the novel treats aspects of the (highly romantic) story, the world it unfolded, and Beethoven himself, with utmost care and respect, and features illuminating details as well as a sharp ear for dialogue. Jessica is known  for her novels which blend music, history, character, and gripping narrative so seamlessly; her 2008 novel Hungarian Dances (Hodder & Stoughton) is one I find particularly affecting, wonderfully connecting the visceral experience of violin-playing across the ages with the search for identity, family, home, culture, contentment, love. Jessica is also a highly accomplished journalist and was classical music correspondent for The Independent from 2004 to 2016; her work has been published at The Observer, The Guardian, BBC Music Magazine, as well as The Sunday Times. In addition to five works of music-history fiction, she has authored biographies of composers Erich Wolfgang Korngold (Phaidon, 1996) and Gabriel Fauré (Phaidon, 2000). She has also worked with composer Roxanna Panufnik on libretti for choral works and operas, including Silver Birch, a work commissioned by Garsington Opera and, in 2018,  shortlisted for an International Opera Award. Garsington's Youth Company also commissioned two Oscar Wilde-related works from Jessica: The Happy Princess in 2019, with composer Paul Fincham; and The Selfish Giant with John Barber; it has been postponed to 2021.
Jessica and I spoke late last month, about the pangs of editing, the joys of crowdfunding, the beauty of simplicity, and just what her beloved "Luigi" might think about our COVID era.
2020 was supposed to have been the Beethoven year.
It was!
It still was, wasn't it? His work is so much about compassion, or its absence.
Exactly, and if we had to have a big composer anniversary I'm glad it was him; he gives so much in his music.
You reflect much of that intensity of feeling through your work. How did this particular book come about?
It felt different partly because I was writing in the first person, it's something I've not managed to do successfully before; I've tried with other novels those are the ones sitting at the bottom of the cupboard with no hope of completion, this is the first time it's worked, which has made a difference. As for the research, the wonderful thing is that so many have done so much research already – there is an awful lot to read! And you can find something about whatever aspect of his life and world you want to know about; you don't need to sift through and decipher every handwritten letter, it's all been done.
The "Immortal Beloved" story is fairly well-known in classical circles; how daunting was it to tackle as the subject of a whole novel?
It really is a case of, hold your nose and jump, and from a great height! It was about seven years or so ago I was asked to do a talk about Beethoven and women, and I didn't know that much about it all then, and I started reading and researching, and thought, bloody hell, amazing stuff; it gets under your skin, and I can see how people get obsessed with these stories and with different theories. I started following some of the trails where some of this stuff came from, and why certain things have been pushed and others hampered, for one reason or another, and I discovered it's not to do with the stories but the people who have been pushing them or otherwise, in many cases; the fact that the Beethoven-Haus Bonn is very much behind the Josephine scenario made me think they probably knew something, because if anyone knows, they do! It was a Canadian musicologist, Rita Steblin, whose work was the most useful; she'd written articles about this, getting other sides to the story. Tragically she died last year; I'd been trying to find and write to her, to get in touch and ask her some things, and I couldn't find her anywhere, then I met the director of the Beethoven Haus in January in London, and he told me she had died a few months prior. I was horrified. Anyway she's an absolute heroine, and she was Canadian. She wrote a ton of articles about Beethoven and Schubert and lived in Vienna.
Integrating research, without it being too granular, with storytelling, is must have entailed some tough creative choices.
Any historical novelist or biographer will tell you that you use about 10% of the actual work, the groundwork, that you've done, and the thing is to not get so bogged down in detail that you close the thread of the narrative. I had to cut a huge amount out of the book, and it's more than 400 pages still – it would've been more than 500 without those cuts. Sometimes there will be an editor who will say, "Right, get rid of this" and other times you have to be absolutely ruthless, I had one chapter, a digression about the birth of romanticism and all sorts of literary and slightly tangential things that were going on that touched on Beethoven, and Tom (my husband) read it and said "That's great, I love this!" – and my editor went, whoosh, out with the red pen, and I thought, "Oh nooooo!!" But I can see she had a point; it was bogging down the narrative. If you go on too long (in such tangents), you'll lose people.
… as well as the momentum of the narrative.
Yes. I've had comments saying, "This is a long book but it has a pace of its own." I tried to pick up the pace as it goes along, so you squelch yourself into that world with a lot of detail and character near the beginning, and then the plot starts, but if you think about it, most really serious books about Beethoven are over 1000 pages long, and there is reason for that: he needs that much. He's very difficult to capture.
Studying the scores underlined, for me, the role of changeability in Beethoven's creative endeavors and life overall; what did you find as you wrote this?
Absolutely – to me the heart of Beethoven is his passion for variation, and in a way, he's always writing variations – nothing stays the same, everything is in motion, every time a theme comes back, it's a little bit different. Yet there is this motif which is very attached and some people think that has something to do Josephine – it may or may not be the case – but his motifs are not exactly the same. They are always a little bit different when they come back.
I'm curious what you make of the Beethoven you encountered in your research and writing, and the criticism of his work and seeming dominance of the classical music canon. 
The first thing that really comes to mind is that I am all for performing a wider range of repertoire; I think it's absolutely essential that we diversify the music being played and recognized. We have to hear more women composers, particularly because there is still this attitude that they somehow aren't as good – we have to hear more music by them, and composers of color; I'd much rather go to a concert of music that I don't know than music that I do know, because it's more interesting. When you've been going to concerts as long as I have and sometimes reviewing them too, you get really tired of some of the stuff out there, especially the big Late Romantic symphonies. You think, "Come on, something else now!"
On the other hand, I don't see why hearing more music by other composers means we have to kick out, wholesale, the great figures of the past. I mean, there is this attitude in some quarters of, "Clara Schumann is great and Robert Schumann is crap" – no he wasn't, he was incredible, but they are two different artists doing two different things, who are important for two different reasons. Both need recognition, and I don't see what's the matter with that.
I think Beethoven would whole-heartily support contemporary composers being programmed alongside with his work, and he very much understood the pressures of market forces and money woes.
Oh, I think he was quite canny.
I think he had to be…
This is very true.
Might we , when we come out of COVID, have a more contextualized Beethoven? Or do you see a move toward entrenchment of The Hits?
I really don't know. I have very little sense of how things will unravel or ravel-up again, and I don't know how long this whole thing is going to take to pass, I don't know what will happen politically. In the UK we crashed out of the EU, and the entire music scene will be badly affected; the realities of many simply haven't been taken into account. I really have no idea; we have fantastic musical life, and we have people who are throwing it out the window, so when things get thrown out the window it tends to be the case you get an entrenchment of the surefire sellers because people are anxious and they're desperate, and they are scared of taking risks – that's when there's a pulling back of the boundaries rather than a pushing out of them. So … I don't know. I think Beethoven's been picked on because it was his anniversary so he was the highest-profile composer around, thus he's an easy target.
I recently watched an old performance of the Leonore overture, and I wondered if such criticisms aren't as much related to pedestrian performance practises as to decontextualized programming… 
I had to listen to a recent CD recording of Beethoven 5, related to something I was involved in weeks ago, and I could not bear this one particular recording; I thought it was brutal. Honestly, I found it unlistenable. And I was quite shocked, because there are many others who think it's wonderful.
Do you think there's value in having that intense a reaction and that extent of divergent thought, though? I wonder if that's the point.
It could be, but it's a pity it's necessary. Here's where we come back to the need to diversify repertoire: if we heard Beethoven 5 slightly less often there would be no need for people to tear it to pieces and trample it underfoot to make a point. I don't think trampling Beethoven 5 underfoot has anything to do with what it's about.
That goes back to programming. We haven't been able to attend many things and a lot has been forcibly reprogrammed as a result; what stage were you at with the book?
I was in the middle of editing when COVID struck, in March 2020.
Did that experience change your process?
I don't think it changed it but it made it more meaningful. It was my way of escape. It means when it was locked down it was fine, I don't have to phone people up and say, "Sorry, I can't make it; I have to work" – I could just… work. There were a few bits where I accentuated and honed in on certain things and did them slightly differently, for instance there's a  bit where Therese is going to stay in Vienna to hear Fidelio although Napoleon's army is marching in; she's pig-headed and she is not leaving town until she's heard Fidelio! There are some descriptions of the atmosphere around Vienna at that time, about how she felt in the face of this tremendous change, when everyone else is leaving town and the place is empty and she's on her own and doesn't know what's going on. There were bits like that that got in at a late stage because of what happened through 2020.
The crowdsourcing for this novel seems like a smart way to go about a creative project; do you think it points the way to a future for creative output, especially for writers? Doing it in normal times is one thing but doing it now is quite another.
It's tricky to say. It's the third book I've done with Unbound, the other two that I did first were finished before I took it to them; Ghost Variations (2016) was with them, for instance. I'd hit a rocky patch because after the financial crash in 2008, a lot of authors, if they weren't Dan Brown or Salman Rushdie, found themselves turfed on their tails; there were a lot of us writing pretty good books but we were in the middle ranks, and we got kicked out (of publishers). I'd been taking around Ghost Variations and I was very fed up with the sort of responses I was getting to it; I knew it was a good story and I knew it was topical. Eventually I found Unbound – I filled in a form on their website and they came back and said, "We'd like to have this as one of the founding books on our list" and that was my first go on crowdsourcing; I got the money together in 12 days. I surprised everyone! I love the people, the design, the editorial standards, everything is really good; Unbound is a traditional publisher but it crowdfunds.
The Beethoven book was a little bit different, as I hadn't written it yet, and I knew I would have to do it damn fast to get it out in time for the Beethoven anniversary. I had a drink with the guy who was my editor at the time and said, "I've got this amazing story, I really want to write it" and he said, "Well if you can do it by about this time next year then we can probably." He told me what they needed, and I thought it was just about doable; I'd done all the research, I just hadn't sat down and put anything together, I hadn't really had the guts to take the plunge on writing a book. I thought I could do with some talks and didn't see myself doing a whole novel, but I thought, "It's the anniversary year and I'm going to kick myself if I don't do this, it's now or never" so I jumped. The crowdfunding was quick, it all came together in three months – quite fast. For something else it might take a few years.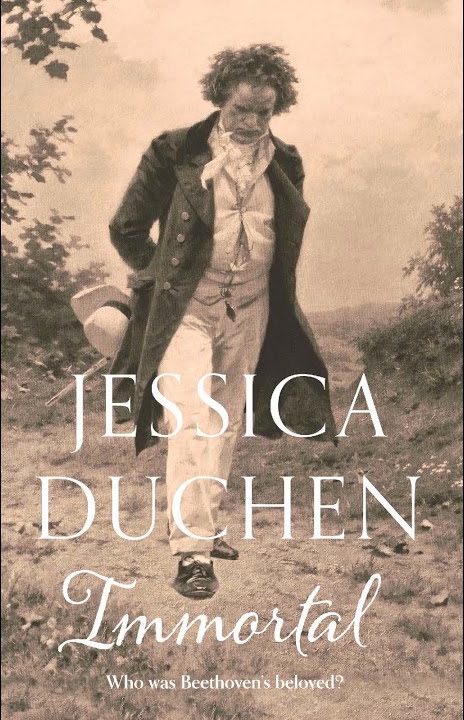 So how much do you see crowdfunding being a model for creative endeavours in 2021 and beyond then?
I know quite a number of really interesting music projects being funded this way, so I think in a way it's books who are the ones late to the party; musicians have been doing this for a while! I think it's a little bit difficult – that's probably an understatement because of the pandemic situation. There's an awful lot of people who have no work and their finances are very stretched; people are extremely worried and won't know if they'll get their work back, and there are others who get government support or don't get government support, here it's a very capricious system and it doesn't make an awful lot of sense.
On the other hand, there are a lot of people who have full-time jobs, they are professional people who've been furloughed and are still getting paid and they have nothing to spend money on; they can't go abroad, they can't go on holiday, they can't go to the theatre or concerts, there's no point going shopping since we're all living in our jogging pants and are getting far fewer haircuts. That means people will have some cash sitting around and might have time to support books and music… so if you can target the right market, there might be something to be had through crowdfunding I don't think of crowdfunding as ideal, and I don't think it would become the way to do things – but it's an alternative, and it's quite fun. You are building a whole community around your project as you are creating it, which is something I really enjoy.
Building community is very tied to the equalizing effect of the internet; some roll their eyes at the digital world but others (like me) wouldn't have a career without it, and the related efforts of building and engaging a virtual community… 
Absolutely – and it is real work.
… although as you mentioned, it's difficult to know what to say about online performances because they are not visceral…
It's not the same as being there. It can't be.
… and I am not sure of the value of doing fancy filming of performances for online broadcasts. I like the Wigmore Hall concerts because they're simple; I can focus on the sound itself.
They are elegant and so simple, the way those are done! I suppose it's easy to do in the Wigmore though.
There's something to be said for simplicity in 2020 going into 2021! What do you think he would make of our current times?
That's a very good question, because if you think about the world he lived in, the life expectancy was something like 45, and he did well to get to 56. Loss and death were a huge part of everyday life for people in the 19th century in a way they are not today, when everything tends to be very sanitized, so (hygienic practise) would be something he would be surprised to see. Also he had the Napoleonic Wars to deal with; that was a really eye-opening side of the research I did, because for some reason, my history studies at school and university in music courses, did not touch on Napoleon at all – somehow we studied Haydn and Mozart and Beethoven (at Cambridge) but not what was going on at the time. And millions of people died because of Napoleon.
And that's such an important thing to know when approaching Beethoven's work…
It really is! Quite honestly, if I think about it, Beethoven in our times would say, "Get over yourselves! Do the sensible thing! Wear a mask! Do the hands-face-space thing, and be glad you have these hygienic and technical things to keep you alive and connected – you've got so many advantages!" And he'd say "Come on, make the most of what you can; you've got all of this stuff now that I didn't have… pull yourselves together! Get on with it and be productive!" That's what I think he'd say, but I could be wrong.