First things first: the Substack newsletter I'd planned is on hold, for many reasons, including technological. If and when things change, I will make an announcement here. Secondly (and related to first): I've been busy with professional work, which includes numerous reviews for The Globe & Mail.
Importantly:
Thank you, readers new and old, for standing by me and supporting my work, especially through these last three-plus years, which has been a largely difficult and painful time. I confess that I am slowly winding down my work here, though I may post a few occasional interviews related to artists and events in the future – things that catch my interest and equally speak to our current socio-political epoch with regards to creativity, geography, and ambition.
In that vein: my next interview is with conductor Giordano Bellincampi, who next month leads the Auckland Philharmonia Orchestra (APO) in the New Zealand premiere of Die Tote Stadt. Bellincampi, who is also the Music Director of the APO, shares his thoughts around music-making with the orchestra through the pandemic, the necessity of risk, and why Korngold's opera is so important, especially right now. (There's also a very moving story that comes with that.) Look out for it next weekend.
A few things have caught my attention the last little while, one of them being the immense traffic my 2022 essay on war and cancel culture continues to garner. I still believe the co-opting of algorithmically-driven language by sectors within the arts community (and arts journalism) is fascinating if frustrating. Nuance, complexity, context, whatever; they don't generate ad-friendly clicks fomented by white-hot outrage. Pffft. Patience, time, attention, intelligence – very unsexy indeed. To hell with nuance! (I can't do it; maybe you can.)
All of which is to say: I was very happy to note the Kharkiv Music Festival went ahead this year. Conductor Vitali Alekseenok, who has been the Festival's Artistic Director since 2021, led a closing-night gala which featured an inspiring mix of opera arias, Ukrainian music, and symphonic works, including Alekseenok's own arrangement of "Hymn" by Valentin Silvetrov. The conductor, who published a book in 2021 chronicling the protest movement in his native Belarus and following Russia's invasion of Ukraine in 2022 drove van-fulls of aid supplies from Berlin to the Polish-Ukrainian border, was named this week as Chief Conductor of Deutsche Oper am Rhein starting in the 2024-2025 season. In March 2022 he told Van Musik's Hartmut Welscher about what he had observed with regards to his Russian contacts:
 I realize how hard it is to do anything in Russia, especially with the new laws that passed (…). But you have to do everything you can. You don't necessarily need to take to the streets, but you must find some way of taking a stand and speaking out. Better small actions than no action at all. Silence is the most dangerous thing, but of course most people opt for that; or they keep their eyes closed.
Keeping in that vein: this is a very good documentary.
Much (not all) of the footage in this nearly hour-long work was filmed covertly. It is especially useful in illuminating the rise of Yevgeny Prigozhin and the Wagner Group, and his/their recent "march for justice."
Alekseenok's work, together with recent events, and a re-examination of various texts, had me thinking a lot about opera, specifically Russian opera, and the ways in which various works have depicted and dealt with power, on stage as much as off of it. I worried this initial quote-tweet yesterday, based off of European Resilience Initiative Center founder Sergej Sumlenny, came off too glib, especially considering the gravity of the then-unfolding drama, so, to paraphrase Byron, I suddenly felt anxious to explain my explanation. Maybe I am context-obsessed, or maybe, as my mother often used to tell me, I'm being too sensitive.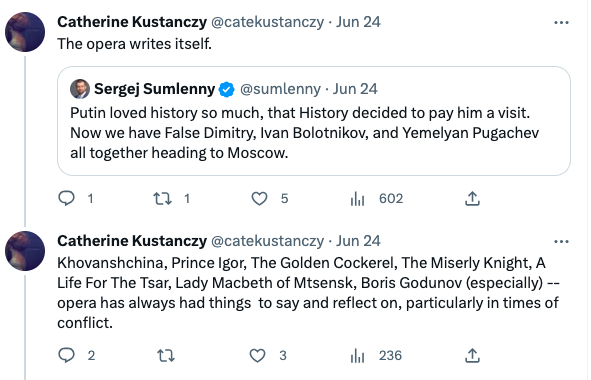 In this thread I also highlighted Staatstheater Nürnberg's excellent in-concert presentation of Anton Rubinstein's rarely-performed 1875 opera The Demon, a work which largely revolves around notions of nuance, balance, perceptions, faith, and ultimately, redemption. Baritone Jochen Kupfer gave a deeply moving portrait of the titular character, with a beautiful burnished tone and crystalline diction. The Demon gets one more outing this season, on July 8th, with the recent performance broadcast (and accessible) via BR Klassik.
Tomorrow (Monday, 26 June) the Bavarian broadcaster will be busy simulcasting the opening of Hamlet by composer Brett Dean at the Bayerische Staatsoper in Munich. The presentation follows on Dean's new piece"Nocturnes and Night Rides" written for the 500th anniversary of the Bayerische Staatsorchester, which was presented by the organization earlier this year.
I reviewed Hamlet the opera when it made its world premiere in 2017 – my observation that it's an important addition to the opera canon made the headline, which is amusing in retrospect, considering the extent to which that's indeed become true! To say this work had a big effect is putting things mildly.
In the introduction to my interview with Hamlet librettist Matthew Jocelyn in 2019, I wrote that his and Dean's work, "(t)he theme of vulnerability – Hamlet's, Ophelia's Gertrude's, even that of Claudius –runs through this 2017 work like a trickle of blood on stone." At the time Jocelyn was directing the opera's German premiere at Oper Köln. He discussed the differences between English and German-speaking audiences, his work with conductor Duncan Ward, the uses of language ("the French say "dégustation") and his collaboration with Dean in the work's creation ("he more radical the decision, the more great the appetite with which Brett jumped on it").
That collaborative spirit was echoed by tenor Allan Clayton when we spoke in early 2020. Clayton sang the lead in the world premiere of Hamlet in 2017, and performed the Met's production of the opera last year; he'll rejoin some of the original cast (including Rod Gilfry and Sir John Tomlinson) and crew (director Neil Armfield and conductor Vladimir Jurowski) for the presentation in Munich.  Clayton recalled working on the first Hamlet production in Glyndebourne and how "every department was being collaborative, from Matthew and Brett's first jotting down which scenes they wanted to include, to the first night. Everybody was giving everything."
Speaking of giving: Gabriele Schnaut (pictured in the top photo) knew a thing or two about giving all onstage, and through all kinds of projects. The soprano passed away this week at the age of 72. As well as being one of the great singers of dramatic opera repertoire (Wagner, Strauss, Janáček), Schnaut was also open to working with contemporary composers, including Wolfgang Rihm. In 1987 she performed as Ophelia in Rihm's Die Hamletmaschine, a work based on Heiner Müller's 1977 play of the same name and a highly abstract reading of Shakespeare's play. Throughout her career Schnaut was hailed for her forceful stage performances and visceral interpretations; she made her Bayreuth debut in 1977, and in the coming two-plus decades, gave more than 100 performances there. This, in addition to singing at major houses (New York, London, Milan, Paris, Vienna, to name a brief few), and, from 2005 to 2014, a professor of voice at the University of Performing Arts in Berlin.
Schnaut was especially associated with her work at Bayerische Staatsoper, and in 1997 she graced its stage as the lead in Herbert Wernicke's then-new (and still-revived) production of Elektra. Almost two decades later, she was in the opera again, this time as Klytämnestra. Her bows from that time, caught on video here, are particularly moving, as were the many tributes and expressions of grief at the news of her death.
Until next time… keep your cultural antennae out, and remember the c-word (it's context).
Top photo by Wilfried Hösl.