A bright spot amidst a sea of gloom lately has been the learning more about the music of Fanny Hensel (1805-1847), especially through the voice of a favorite soprano.
Hensel was the noted sister of Felix Mendelssohn (1809-1847) and the granddaughter of philosopher Moses Mendelssohn (1729-1786). Her position, as the musical daughter in an assimilated family (from Judaism to Lutheranism), allowed her both the freedom to write and the restriction of never enjoying a career. In 2012's Jewry in Music: Entry to the Profession from the Enlightenment to Richard Wagner (Cambridge University Press), author David Conway shares an observation from English writer Henry Chorley (1808-1872), who was also a friend to Felix Mendelssohn, in which he notes the profound connection between class and creativity: "Had Madame Hensel been a poor man's daughter, she must have become known to the world by the side of Madame Schumann and Madame Pleyel as a female pianist of the highest class." There are contrasting views in the musicology world around the extent to which Hensel might have pursued a professional music career were it not for the limitations of her social class and the times in which she lived.
Through such debates, one is bound to consider a broad range of circumstances, some of which was paid for by the privilege her social class allowed: the challenges in wanting to marry Catholic painter Wilhelm Hensel (1794-1861); a poem Goethe himself dedicated expressly to her ("Wenn ich mir in stiller Seele") in 1827 (which she subsequently set to music in 1828); of the trip to Italy with husband and son (1839-40) which allowed her to meet young prizewinner musicians (including Charles Gounod) and thus spurred her creative confidence; of her friendship with the German diplomat and music enthusiast Robert von Keudell (1824-1903) who was so supportive of her work; of her first experience having her music published (a collection of songs) in 1846 and her nervousness around her brother's reaction to said publication thereafter. Hensel had not consulted Felix prior to the undertaking, but he did extend congratulations to her later, writing in a letter that "may the public pelt you with roses, and never with sand". She later wrote in her own journal that "Felix has written, and given me his professional blessing in the kindest manner. I know that he is not quite satisfied in his heart of hearts, but I am glad he has said a kind word to me about it." She and her brother worked closely exchanging creative ideas through an active correspondence, with Felix regularly reworking his own compositions based on her suggestions. The pair had made tentative plans for an opera based on Nibelungenlied (The Song of the Nibelungs), a 13th century German epic. In 1847 Hensel and Clara Schumann met a number of times as well, but a mere two months later, Hensel died of complications from a stroke. She was 41.
Though Hensel published in her own name (in 1846 technically listed as "Fanny Hensel geb. Mendelssohn-Bartholdy"), through time she has often been referred to solely in hyphenated form (Hensel-Mendelssohn, or vice-versa). Her own work comprises 450 works of music in total (including four cantatas, an orchestral overture, over 125 pieces for piano and in excess of 250 songs), and only became more recognized through the 1980s, through various recordings of her songs. In 2012, Hensel's Easter Sonata for piano, lost for 150 years, was, at its discovery initially attributed to Felix Mendelssohn; the work was premiered in her name by Andrea Lam at Duke University, and later performed on BBC Radio 3 by Leeds Competition winner Sofya Gulyak.  Duke Arts & Sciences Professor of Music R. Larry Todd noted the range of influences in the 1828 sonata, and that "we usually think of 19th-century European music as familiar enough terrain. Occasionally, though, a forgotten or lost composition comes to light, and the circumstances of its history prompt a reappraisal of the conventional wisdom about the century we thought we knew all too well." In 2018, the Fanny and Felix Mendelssohn Museum opened in the Neustadt district of Hamburg, and more recently, November 2021, Google featured Hensel in a Doodle to mark her 216th birthday.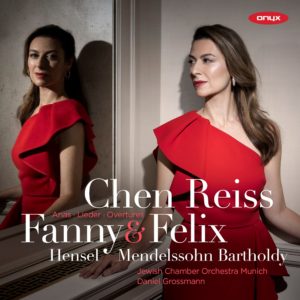 Acknowledging the various roles Hensel fulfilled in life allows one to more fully engage in her art, and to contemplate the whys, wherefores, and hows inherent to her creative process. Thus might one build an understanding, of not only her body of works, but the uniquely creative elements at play within them. Elements of the past (Bach, Beethoven, Schubert), contemporaneous (Schumann, Liszt), and future (Brahms, Liszt) intermingle in some thoughtful ways, and one senses, especially in her later works, a through-compositional style that would've found fulsome expression on the opera stage, a medium for which she would have been eminently suited. Soprano Chen Reiss agrees on this point, and brings her own beguiling brand of elegant, operatic flair to a new album. Fanny Hensel & Felix Mendelssohn: Arias, Lieder & Overtures (Onyx Classics) features two works by Mendelssohn himself (including concert overture The Hebrides (Fingal's Cave), Rome version, and the first version (1834) of the concert aria "Infelice!", and, centrally, a number of Hensel's own works. The Lobgesang cantata, orchestrations of eight of her songs (done by composer/pianist Tal-Haim Samnon), and the rarely-heard concert aria Hero und Leander round out an engaging and aurally luscious listen. Reiss is especially moving in her performance of "Dämmrung senkte sich von oben", with its opening, a lonely oboe, flitting in and out in beautiful counterpoint to Reiss's silky soprano. Her delivery of Goethe's text is beautiful, a seamless integration of head as much as heart; the line "Alles schwankt ins Ungewisse" ("Everything shakes with uncertainty") is sung with such immediacy, and moments later modulated into an achingly sad sort of acceptance, as "schwarzvertiefte Finsternisse widerspiegelnd ruht der See." (Darkness steeped in black is reflected calmly in the sea.) The spell is cast; this is performance of the very highest order, and one cannot help but feel in hearing it, as with all the album's thirteen tracks, that Hensel herself would be well-pleased.
The release, initiated by the joint efforts of soprano Chen Reiss and Jewish Chamber Orchestra Munich (JCOM) Music Director Daniel Grossmann, releases in physical form today (digital release was earlier this month), and showcases the range of colours and theatricality which are deeply woven within Hensel's writing. I recently had the chance to speak with Reiss and Grossmann, about how the project came about, what the orchestrations add to pieces that started out life as piano arrangements, and thoughts on Hensel's work as a female Jewish composer in the 19th century. They will be presenting a live programme, called "Die Familie Mendelssohn", at Munich's Cuvilliés Theater on April 6th.
How did this project come about, and why did you decide to orchestrate some of Hensel's pieces?
CR It started in the middle of a coronavirus lockdown. I was in Berlin and got a call when I was there from Daniel, asking if I would join his orchestra in a special concert being held in Munich in July 2021, to celebrate 1700 years of Jewish life in Germany. Daniel suggested that I sing a piece by Fanny from the Faust Cantata which I didn't know – I knew her art songs, but didn't know she wrote any music for orchestra, or larger-scale pieces for orchestra and singers. So I heard it and completely fell in love with her music, and I asked Daniel later, do you know if she composed anything else for soprano and orchestra? And he came up with Hero und Leander, and the Lobgesang ("Meine Seele ist stille"), the two arias orchestrated by Fanny, and I told him, listen we have so little time to rehearse for the concert, let's rehearse and record everything, and it'll be ready! Daniel was fine with that, and on it went…
DG … I think it was a great idea to do it that way. We chose the songs because, of course, there's not enough pieces by Fanny for orchestra and soprano – the problem with the Faust Cantata is that it requires a choir, and with corona restrictions at the time we couldn't integrate a choir into the live concert. It was not possible to make a recording with a choir at that time either, and so we had the idea to perform her songs instead, and to orchestrate some of those songs. Chen knew Tal in Israel and he orchestrated those songs we chose, and I think it's a very nice combination – the songs and some of these very dramatic cantatas, both Infelice and Hero und Leander.
What do you think the orchestration adds?
DG I think the interesting thing with orchestrating piano songs is that you get many more colours. Orchestral song, as a form, was not really known at that time (mid 19th-century) – of course there are some, but very few. At the end of the 19th century and the beginning of the 20th century, this genre of orchestral song came up with Mahler and Strauss. Today we are much more used to the sound of songs done with an orchestra and these songs get so much more colour and much more meaning through the orchestration. The way these pieces (on the album) were done, the way Tal uses the orchestra, it's in a very … it's not a big orchestra sound, it's very chamber-sounding, and I like that.
CR What Tal did, he orchestrated these songs in a very delicate way, and in a very transparent way, and very often the strophenlieder, the strophe songs, they normally are with the piano, and each verse would sound the same. In "Der Rosenkranz", for example, Hensel wrote sections one after the other, one page with all four of them, with a completely identical piano part, but when Tal orchestrated them, he used a different instrumentation for each of the strophes, and that to me, gives each one a uniquely different colour. It's like a story that develops not just in words and in poetry but also musically, in colour.
To my ears, the arrangements highlight a narrative element, which is exemplified in the song where you're doing a call-response with a flute…
CR That's "Gondellied", yes I love that!
… it's so striking, you think, 'Ah, yes, evocative sounds, there's a narrative, there's a story.' And the timbre of a flute is so interesting with that of your voice…
CR Well what gave us the courage there, and to orchestrate overall, was the expression. For instance, with Hero und Leander, Hensel orchestrated that herself, and it is a very dramatic piece! She uses a very broad range of expression there – a recitativo, then an aria, then a sort of cabaletta, so to say. It's true of Infelice, by Mendelssohn too, that there are three parts in that, all three are orchestrated in a different way – and that gave me courage. Her thinking – Fanny's thinking – was dramatic, theatrical, even, and I personally think that had she been a man, she would have written an opera.
After hearing this album – I agree with you!
CR Hero und Leander is even more advanced in its language, its harmonic language, than Felix's. I don't know if you agree, Daniel…
DG Yes!
CR… but it's dramatic and sounds like Wagner in places, whose music of course came later – so I felt very good about these songs with orchestration and I think Tal did a great job with them. They come to life almost like theatre pieces.
How did you go about choosing these works specifically? Was there any sense that you were creating a broader story?
DG I chose the songs I liked most; I chose them by musical material. It's not meant to be a story. Of course there are many more songs by her, all of which are beautiful, but these are the pieces I liked the most.
CR I had the fortune of meeting a very interesting lady in London who is a direct descendant of Fanny Hensel, and I actually learned from her about the character of this composer. She said if Felix was composed and well-behaved, like the facade of the family, everything proper, then Fanny was much more fiery and passionate, and so no wonder she wrote something like Hero und Leander, and also something like "Italien", this song Felix published in his name – today we know that Fanny is the one who composed it. You probably saw me say this in another interview too: this song "Italien" was a favourite of Queen Victoria, and she asked Felix to play and sing it for her, when he visited Buckingham Palace, and it was then that he admitted to the Queen that his sister wrote it: "It's not mine." In the orchestration Tal added, especially with the extra bars it gives this evocative sound like you are in Tuscany somewhere. That's one of my favourite songs, it shows she had a great sense of humour to choose that text and to orchestrate it.
You said in another interview that if her brother was more classical-leaning in terms of his sound, she was closer to Brahms…
CR Yes, Brahms came after her own time, as you know, but her harmonic language sounds a little bit more advanced than her own time. When I met her descendant and she told me how Fanny was very, very fiery and passionate and Felix, something she told me I didn't know, he felt he had to kind of protect her from the public opinion – (the family) were worried if she were to have a (music) career in the open, that she might say something inappropriate, or do something which didn't quite maybe sit well with her social class.
I like what you said on BBC Radio recently, about suspecting she would want us to use her name "Hensel" when referring to her compositions. Her brother had ' brand recognition' as we call it now – but another contemporary issue pertains to 'identity politics', or more properly, contextualized understanding. How to think of Hensel – as a Jewish composer, a female composer, a Jewish female composer? Someone who came from a privileged family? Who had a famous brother? Can her work, should her work, be separated from those identities? Should we ignore them entirely? Or is it important we as listeners acknowledge those identities in order to appreciate her work more deeply?
DG This is a very delicate question – about being Jewish, and about being a Jewish composer. They had a third sister and the two sisters were really Christian; there are a lot of quotes where you can see Felix felt very Jewish, and … I read a lot about the Mendelssohn family because I'm really into this question of 'how Jewish is this family?' and I think they are much more Jewish than people think today. But: Fanny felt very Christian. Their parents raised them in a Christian environment. So it's really interesting: Felix refers to himself quite often as Jewish, but she does not. And I think it's much more about being a woman – their father, and also Felix, said it's not allowed for her to be a professional composer, she's a woman so she should be at home with her family, a woman shouldn't work. But I think it was another time, and she was, as Chen said before, very happily married, so being a wife and mother was not a problem for her, or being at home with her husband, this famous painter. So I'm not sure we should speak of her as a specifically Jewish composer.
CR Speaking for Daniel and myself, we didn't do the album because she's a female Jewish composer – we did it because it's really great music. And yes, I think because it's been done with the Jewish Chamber Orchestra Munich, it's nice that we have a project where we have two Jewish composers (together with Tal), but I don't think it's a must. People ask me, what is Jewish music? I say, it's a very big question, because there are also non-Jewish composers who wrote music which is much more Jewish than that of Felix and Fanny. I don't know if you agree with me, Daniel…
DG For sure.
CR … so in that sense, I always say, Jewish music developed in so many ways, because the Jews didn't have one country. It's not like Czech music, for instance, which is connected to people who were in that territory specifically; Jewish music developed obviously from the liturgy, from prayers. But the same prayer done on Yom Kippur in Berlin sounds completely different than the same done in Baghdad – it's the same words but they use completely different keys. So if a guy from Berlin would go sing what he usually does in Baghdad they would throw tomatoes at him because it will sound so different. We can make a whole interesting topic just on what exactly is Jewish music! Later on in the 19th century much more music developed in synagogues in Germany and in Austria, and in my opinion they were influenced by Schubert, Schumann, and classical keys, but in a way Jewish music itself has been developing the most now in the past 70 years, since the formation of israel, with the Jews having their own land. It's very interesting to see the progress of composers like Paul Ben Haim (1897-1984) who was born in Germany; at the beginning of his career he wrote very German-like works, he wrote in this Straussian kind of way, but when he moved to Israel his style changed completely, and he began using different keys and Yemeni styles of music and these different rhythms. Jewish music is a big thing – Daniel can elaborate much more on that.
DG I have worked with the Jewish Chamber Orchestra Munich now for 16 years and the idea when we started was never to play Jewish music; the idea was to find different Jewish cultural or religious elements and to speak about these elements through music. It's the same with the Mendelssohns – they spoke through music. It's interesting, this family: their grandfather, Moses Mendelssohn, was one of the most important Jewish philosophers – he was really Jewish – and his sons founded this bank, they were businessmen, they wanted to make business, and they knew as Jews: "We can't make business as we are." So assimilation was important for them, for their business, for continuing their business. I think this is the interesting thing behind the Mendelssohn family; it's not about how Jewish they were, or how Jewish their music is – I don't know. In terms of someone like Zemlinsky, I recorded a CD with his music, and he was raised in a very Jewish household, but his music is, I think, not Jewish at all…
CR I agree, there's nothing Jewish about Zemlinsky!
DG …but he was raised Orthodox-Sephardic Jewish.
A cornerstone of the Jewish Chamber Orchestra of Munich is education – where does this album fit within those initiatives?
DG I always say there is the singer projects, like this, I can't say where it exactly fits, but all the work we are doing, all the concerts we are doing, is telling something about Jewish culture and Jewish religion, and yes, I would answer your question, it's this story of assimilation in Germany and Jewish life in Germany. People don't know anything about Jewish history and culture and religion, they only know about the Holocaust. In Munich there is a community centre right in the centre of the city but it's closed, the synagogue is not an open place like a church, you can't go in, so people don't meet Jews, and that's what I try to break down, through this orchestra, so people have an easier way; they attend our concerts and find differing aspects of Jewish life here. Now that we are about to perform these pieces in a concert in two weeks in Munich, I will speak about all of this, and about the Mendelssohn family, as part of a short intro before the concert. Again, it's an aspect I enjoy speaking about and telling the audience about, and I think that's the work. It's like little mosaics: there's always a new piece, so to say, to explain to an audience.
How do the songs change live, and your understanding of them?
CR We were very fortunate when we performed the songs initially, we already had an audience. It wasn't full because we were allowed 50% back then, but we had an audience, so we tested some of these songs on the public. Musically, when I prepare for a concert or the recording I prepare the same way, and I always think how can I serve with my voice, with my imagination, to serve the music the best way, so it's not like I prepare any differently, whether the audience is there or not. But magic happens when the audience is there and I have my favourite songs, but there are other songs the audience likes more, so it's always a surprise in that sense, but I can't say I prepare differently.
To elaborate on the question before and what Daniel said about assimilation, there was a lot of intermarriage and conversion in Germany, and this is so interesting. In reading about Mahler and Mendelssohn, they felt they couldn't keep their religion to be successful in business – or in the case of Mahler he felt he couldn't keep it if he wanted to get a certain post – so both of them felt they had to convert. It's important for us today to realize how much we advanced in human rights, in rights of women, in the right to keep your own religion and to feel safe in to say, "I am a Jew, I am a Muslim, I can do what I want" – or, we aim for this situation. I live in England, and my kids go to school here, and they don't hide that they are Jewish. For the generation of my grandparents in Hungary, they could not openly talk about their Judaism – back then, Jews could not hold certain posts, only because they were Jews. And it's important not to forget that. But this is what I love about the orchestra and our project: it shows how much Jews contributed to culture in Germany, and in Europe overall, and the extent to which Jewish people played a key role in cultural life in Germany.
So there's a personal relationship of sorts with Hensel's work?
CR Yes, I feel so committed to promote her music, because it's great music but also, the fact she was a woman. You know, my daughter plays the piano, she uses those graded exam books, and right now she's in book 2; I looked at the composers they put in, and at least 50% of these little pcs are written by female composers. I bet you even ten years ago it was not like that. So I think there is much more awareness today to giving female composers a voice – and maybe we are helping with that a bit.
Top photo: Paul Marc Mitchell