"There is a way to say something," my mother used to remark, "a way you have to learn." The best form of written and spoken expression, that is, combines elegance and honesty. This matters greatly if you hope to have people do as you wish, in the way you want them to, while still holding your own. It is an art which is in ever-evolving states of evolution in my own life.
For Helmut Deutsch, however, such an integration is a way of being, on stage and off. One of the most acclaimed lieder pianists of our time, Deutsch combines bluntness and a distinct, and it could be argued, old-world Viennese elegance, to his approach to the art-work-life trinity, and most wonderfully expressed in Memoirs Of An Accompanist (Kahn & Averill), published in English last year. The memoir was first published in 2019, in German, as Gesang auf Händen tragen: Mein Leben als Liedbegleiter (Henschel Verlag), a perfect title for a musician who indeed has the gift of carrying song as if made, alternately, of solid iron and the most delicate glass; knowing which touch to use when is a great part of Deutsch's mastery. In a celebrated career spanning over five decades, Deutsch has honed his reputation of being one of the most intuitive and artful of pianists, a full partner to vocalizing cohorts in manifesting the meaning of the words which ground much of the work, and the sounds between and around them which allow such works flight.
A great many things have been written about Deutsch and his work, but since our chat last month, I have found myself, like Hugo von Hofmannsthal's Lord Chandos, stymied for such words. What could possibly be written to capture such artistry? To listen is, as ever, simultaneously instructive and daunting; one is reminded, through the poetry of words and sounds, of the value of sitting in a place where silence is the only appropriate response. Indeed, I am a fan of lieder (as my past work probably demonstrates), and I am a writer, and I am a piano player (or was, and hopefully will be again soon); it is nevertheless impossible to parse the threads of these identities in experiencing the works of Schubert, Schumann, Strauss, Wolf, Brahms, Mahler (plus that of Goethe, Müller, Heine, Heyse, Morgenstern, Bethge) so intuitively performed. Such are the moments when intellect, instinct, and rather powerfully, curiosity, all magically, quietly meet. The pandemic era has forced one to make choices relating to the conscious endowment of attention; lieder has always placed large demands in this area, but the current times of forced isolation have allowed, at least on my own part, an even greater level of received power. There are no other breathing, coughing bodies to mediate reception of the artform – for good and for ill – but this directs and controls intensity of directed attention in ways I hadn't quite expected; it's made me listen to lieder in ways I could have never predicted, and deepened an ardent love, if also enforced occasional (if perhaps needed) distance from the quotidian. I can no longer put on Italienisches Liederbuch, for instance, without expecting to have the rest of the day vanish.
Deutsch's meticulous attention to phrasing, his instinctual approach with singers, and his unforced musicality render such musical experiences deeper and broader, but simultaneously closer, more intimate. To listen to his work is to feel he is playing just for you, whether in a small space like a recording studio, or the vast expanse of the Bayerische Staatsoper. Listen to the clip below with Jonas Kaufmann (from December 2020), taped at that very spot; I had to sit in silence a full fifteen minutes after hearing it for the second, third, fourth times. This is artistry which requires concentration, consideration, digestion, and calls to mind the words of George Steiner, who wrote in Real Presences (Faber & Faber, 1989):
In a wholly fundamental, pragmatic sense, the poem, the statue, the sonata are not so much read, viewed or heard as they are lived. The encounter with the aesthetic is, together with certain modes of religious and of metaphysical experience, the most 'ingressive', transformative summons available to human experiencing. Again, the shorthand image is that of an Annunciation, of "a terrible beauty" or gravity breaking into the small house of our cautionary being. If we have heard rightly the wing-beat and provocation of that visit, the house is no longer habitable in quite the same way as it was before.
Perhaps, I can only add, it shouldn't be, for such a transformation might be what lieder truly asks, if not demands.
This transformative power is one that Deutsch wields in both teaching as well as performance. His dual talents, as a teacher and an interpreter of lied, are long-standing, with twelve years of instructing composition, piano, and musicology at the Vienna Music Academy, and more than two decades as Professor of Lied interpretation and performance (Professor für Liedgestaltung) at Munich's University of Music and Performing Arts, where he still gives classes, among other locales. His extensive discography includes recordings with some of the biggest names in the history of opera, many of whom (Peter Schreier, Brigitte Fassbaender,  Angelika Kirchschlager, Grace Bumbry, Yumiko Samejima, Camilla Nylund, Bo Skovhus, Matthias Goerne, Olaf Bär, Diana Damrau, Dietrich Henschel, Michael Volle, Piotr Beczala, and Jonas Kaufmann) enjoy their very own chapters in the book. It's not surprising Deutsch's career is one marked by close work with singers, considering the central role singing played in his own musical development. The son of music-loving scientists who often sang at home, Deutsch had an active life as a chorister and writes that "as a child, it was the most natural thing in the world to be involved with choral singing. The children's choir school in my area of Vienna was based in my primary school, and once a year there was a large choral festival during which about a thousand children gathered on the stage of the large hall of the Konzerthaus – a mighty experience for a little boy. Piano playing came later."
The memoir begins with the pianist's memories of touring with baritone Hermann Prey – the good times, the bad, and everything between – and then proceeds to move chronologically, with a myriad of observations on working with singers, the differences in audiences, the pressures (or not) of various live and teaching experiences, notable variations in performing spaces, and some timely (and timeless) advice for page turners. And, lest you think there must surely be no suitable place for conductors in a book written by a lied specialist, think again: Herbert von Karajan is given mention early on, and in a particularly endearing way, as Deutsch recounts an incident from the Salzburg Festival, when he was a chorister in the Singverein of the Gesellschaft der Musikfreunde in Wien (Society of Friends of Music in Vienna), an active part of Austria choral life. Karajan, as then-Music Director of the group (forebears included Gustav Mahler and Willhelm Fürtwangler), was set to conduct a performance of Haydn's Creation at the famed summer festival in 1965; Deutsch was called to step in to play piano during rehearsals. "Knees shaking, I stepped up to the podium, shook Karajan's hand and sat down at the piano," he writes. "I had never played a single note of the Creation."  The honesty with which the overly-fast-tempo incident is recounted, along with his honest reaction (and Karajan's), may well inspire empathetic stirrings among those of us for whom the red-faced reactions of screw-ups in front of people we admire still sting.
A similar if less positive reaction is just as valid applied to those people and situations with whom we simply didn't click, artistically, intellectually, or personally. Throughout its nearly 200 pages, Deutsch lets loose a refreshing honesty with regards to certain situations and recordings – but he is elegant in his assessments, and when he does name names (which is rare), there is a didactic spirit attached: one might learn from this thing he writes of, as a young singer, or pianist, or simply keen music lover. He also dismantles various overused cliches ("breathing as one" being but one) and approaches to material. "Striving to please and do everything 'properly' actually gives a boring and pale idea of both the music and oneself," he writes. Everything, in music and in memoir, is meant for betterment – of performance, listening, overall creative experience. Richard Stokes, who is Professor of Lieder at the Royal Academy of Music, provides a sparkling English-language translation for the Kahn & Averill publication. Such linguistic lucidity beautifully captures the nuances of Deutsch's speech patterns and mental meanderings, those thoughts when expressed by artists so often tend toward the musico-historico-narrative. Sentimentality, which could so easily sugar over the tone, is wisely avoided in favour of an umami-like pungency which reveals both firmness of intent and intense artistic commitment.
We spoke back in mid-February, as Deutsch was preparing to do a series of masterclasses in Vienna.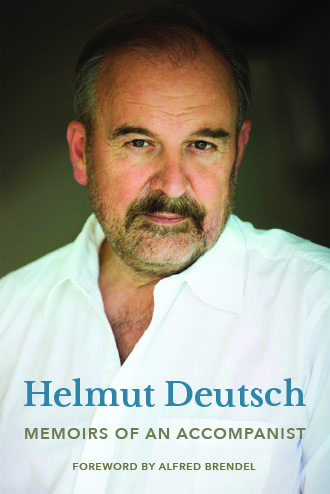 Your memoir is especially notable for its candour; that's a refreshing quality.
I try to be polite as well, but it's a little bit risky. So many singers are still alive and working with me. I didn't really offend anyone, I don't think. Perhaps you know the famous memoirs of Gerald Moore, and of course I have read this 50 years ago and I reread it a few times now, and found one thing very remarkable, that all the singers he was accompanying when he wrote the book – Dieskau, Schwarzkopf, de los Ángeles – were gods, but the others who had passed, he was not so nice to them. I thought, what I tried, is to give a real balance of not glorifying everybody who is singing with me at the moment because we are all human beings and have weak points also. I tried to make this as balanced as possible.
Something fascinating you explore is the automatic understanding that can occur between you and certain singers…
… it's especially the case if you've known them a long time – for as long as I've known Jonas Kaufmann, for instance. After thirty years now, we are like an old couple!
You can read each others' minds on stage?
Exactly. And what I think is very important as part of that is watching a singer's body language. Of course I know him well, so I'm aware that he has an incredibly long breath and where I would have to speed up for other singers, he would say, "No, don't get faster!" I'm able to know that after so many many years… although I had the opposite of this experience, with some remarkable singers who wanted to discuss every detail: "Let's do this" and "Let's try out that". And this is interesting, but sometimes you lose any spontaneity you might have had; when you have figured out all these solutions and think, 'This has to be like that all the time"… this is boring in the end.
So you feel there is a point where the studying must stop and instinct has to take over… ?
Yes, precisely.
How does that instinct relate to the study of text – on the Gál album with Christian Immler, for instance, with the texts of poets like Christian Morgenstern?
It's interesting with him – do you know he is extremely popular in Germany and Austria, but only for his humorous poems? The dark stuff is almost unknown.
Why is that?
Because he was known as a humorist, so he's extremely popular just for that. For the generation of my parents and for mine too, they – we – knew parts of his poems by heart, they were so popular. And somehow he was… the idea of the audience is that he's a funny guy, but he *was* dark. And you are right, Gál's music complements it with these serious things. There are no jokes in it!
How is Gál's music different or unique for you as a musician?
He's certainly coming from the tradition of Johannes Brahms, although it's amazing you would not think he was composing most of these early songs in the time of Gustav Mahler – you can't feel any influence of that. He was very traditional. I'm sure Christian Immler told you everything about this discovery of what his daughter had, that he didn't want these songs published. I think it was only because he got very old and these songs were written more than a half century before, so as an old man he said, "Oh I have not the feeling for this anymore" – but he'd only published five of his songs out of all this material. And it was interesting to convince his daughter that this is music to print – finally she agreed, but it took a very long time.
What's that like to play?
Gál must have been a good pianist because, I would not say it's easy to play, but it's pianistically written. For comparison, you can see even in Mahler songs he was a very good writer but he was not a pianist, so some of his parts are a little bit against the piano technique – but people like Schumann and Brahms, and also Strauss and Hans Gál, certainly played piano very well, the writing is very logical.
Christian said that you and he never discussed interpretation in examining and recording Gál's work.
That's right, we never did – and I think we had no great discussions about such interpretation because we both fell in love with the songs when we saw the manuscripts, and we both had the same feeling that this is very good music, very precious. Christian is also one of these singers you don't have to talk a lot with – there was not even discussions about tempo, as far as I remember, it was four, five years ago when we recorded it now, but there were no problems in terms of, "I see this different" or "I would like to do this much slower" or "This should be much faster" – no, it was chamber music on the very best level. On Modern Times we'd already done the known Hans Gál songs (then), and that was the start of this. Eva came to our concert (related to that album) in London and said, "Oh my father would have loved this" and I said, "What a pity he only wrote these five songs" and she said, "No no, there are many more!" And she invited us to see the songs, and we went through every manuscript for two days. He had good handwriting, very clear, and we are very lucky that, finally, with the help of the grandson (Simon), the whole thing worked.
So do you feel like an ambassador for his music?
Yes. You know the heritage of all his works is now in Vienna, and I hope they will do a little bit more for him now.
It's interesting to think about composers like him, whose works are becoming more known, and reading about the reductions of famous works which you played when you were starting your piano journey. What, in your view, is the benefit to a young musician, of learning reductions?
I grew up with my very musical parents who were scientists, and I played a lot of four-hand music with my father. This was very important, because you learn, especially when you play the lower parts, in general your left hand is more important, and many little notes are not so important, so you must figure out the harmonies and the rhythms. And it's totally different from learning a solo piano piece. In my young years it was still considered house music, that was still alive, because long-playing discs had just started and of course there was the radio, but it was quite usual to sit down and play Beethoven symphonies or to do a bit of sight reading – you got, in many cases, the essence of the piece much much more Later on I played, let's say, more professional arrangements – for example, things specifically written for two pianos. Brahms wrote a lot of arrangements for two, or, one piano and four hands – all his four symphonies, the serenades, and many chamber music pieces, for instance. The symphonies I played on the piano, but in concert and really professional. It's fascinating to do, because you think you know these famous four works almost by heart, and then you start playing and you are not… there's the pure music, because you don't have trombones and clarinets and strings; you have just this one instrument. It's like seeing into a microscope; you see everything much clearer.
Of course it's more fascinating with the orchestra, but to get to know a piece, to know it very well, to analyze it, you play it on the piano. I did an exam as an opera coach, so I studied starting with Mozart operas, Strauss and Wagner operas, and you are not, I don't know the words… when you listen to a big orchestra you're overwhelmed sometimes or many times by the instrumentation, by the use of instruments and their timbre – the brass or the solo flute or whatever – it doesn't make you concentrate on the music only. But when you play on piano you get all the tones – in a good way. You are not disturbed, you are concentrating on the music and nothing else and you are not overwhelmed by that brass chord in a fortissimo or whatever. When you play rheingold on the piano, however, and I'm not a big Wagner fan, I must say, the music is very poor for many minutes and then of course comes the famous theme, and "Ah yeah, this is Siegfried's theme!" but in-between there is not much, but Wagner was able to make everything interesting because of such great instrumentation work. On the positive side when you play Brahms symphonies you find out much more about the construction. It's really fascinating. So I think Brahms, in his older years, said, "I'm not going to concerts anymore; I just will read the score of a Beethoven symphony and I enjoy it" – this is a little bit similar to playing on the piano only, and getting the essence and the main core of the music; you can adore it, or you can find out that, eh, it's not everything so glorious, like in The Ring for example. But this is my very personal opinion.
Certainly there's the opinion that certain things should not be performed in reduction, some things by Wagner, for instance; there's a feeling we will just have to wait to hear those things live again now.
That's right.
But that's when the opportunity for lieder comes. You write in the book that Liederabend are not programmed so much, but, do you think now, in our pandemic era, it might be more?
I was feeling this in the last year because so many events were cancelled. I jumped in with Jonas very often – instead of Fidelio for instance, we had a recital. And somehow (the style of the music) fits or, it fits very much more with the isolation, the sense of intimacy – and I hope this will remain, even after the pandemic.
You write that Hermann Prey didn't want people to look in the program books when he sang – 'They will know the meaning of everything from my voice!' – but I think it is vital to know the poetry and how the sounds relate…
Of course.
How extensively do you study texts yourself, even one you know well, before performances or recordings?
I must admit, first of all I started when I was fourteen, fifteen years old, I think. I wrote this in book, that I was a normal boy who was interested in sports and girls of course, but I was also reading a lot of poems, especially (the works of) Eichendorf and Heine and Goethe, and I fell in love with a lot of these poems; I only found out later that these are also songs: "Wow, these poems are composed of music already!" This was a shock in the best sense, in a very positive way. It was great! I must admit over the many decades I have to rethink the meaning of a poem very often and I do read, I read normally when I have a half hour before a concert and will be sitting in my dressing room; I'll read the texts again. Also I know many of them almost by heart, but it's the same feeling with the music, just the same: you find details in pieces like Winterreise or Dichterliebe. You always, even after fifty years, find new things, and this is very exciting. In the world of text, I am not so much at home, they are difficult texts and there are texts which seem to be very easy, very simple, but there is so much underneath and you can read and read again and again, and, "Oooh! Ah! There's a double meaning! And there is a shift, a metaphor, that image…!"
With the great poems, sometimes I think there are great poems by Rilke, for instance, but he was not composed-to very often, it's very difficult, the words … there's so much music in the words already, that they don't need music, or any kind of music doesn't fit. Many times you have great songs written by more or less unknown poets too; if you look at Richard Strauss songs, (Julius) Bierbaum (1865-1910) for instance, is rather unknown, or mostly even forgotten. A poet like him was known in his time but not so much now, and he is survived only by these songs Strauss wrote. The quality of some of these songs with texts by more or less forgotten poets is really great, and some of them especially have a connection with the music. I didn't really study German Literature professionally but it's a permanent question: what did he really mean by that? And so on. When you teach twenty-something year-old (vocal) students, it's so often the case that they didn't think a bit about the words. They think about the voice, of course, and maybe sometimes the intonation, but you can feel from a singer very soon that he or she is thinking in terms of the meaning of a poem or single words, or that he or she wants a color which belongs to the meaning of these words, and sometimes you see there is no feeling for the material at all, and this is a permanent struggle when you teach, even with professional singers.
I was just going to say, sometimes there are singers who just churn it out, and it seems obvious they don't really have an understanding or intimacy with the text; there's output, and sometimes it's impressive, but I can sense when there's no input.
Exactly!
I appreciate your chapter in this regard where you write of your niece's observations on Barbara Bonney in recital.
Yes, that was so interesting to see. My niece was fourteen or fifteen years old then and the reviews of the concert said, "Oh such wonderful interpretation!" But a child feels a lot. It was really impressive to hear her make such observations.
Her observations highlight the differences in listening quality between locales and contexts. Some of my musician friends have noted those differences too – they can pick it up right away, whether the audience is "with" them or not.
I totally agree, it's very different from place to place. There are special audiences in Europe, in Wigmore Hall – that's a very educated audience – and also in Vienna. You have people who have bought every series for forty years and are listening to sometimes the same pieces from the same (song) cycles for so long, and they are very critical. The big difference between London and Vienna in terms of audience is that the audience in the Wigmore Hall, in my experience, is rather cool when they don't know the singer, but when it's successful they are enthusiastic; the Viennese are not necessarily enthusiastic but they are much warmer from the beginning. It's a case of, "Okay, you have your chance, we are happy to see a new face or hear a new voice." But in London they are more critical. It's amazing in the hall. It's hundreds of recitals a year and the repertoire is much more than 50% in German – you are young, so there is time for you to learn German, Catherine!
The lessons continue…
Good, keep practising!
But, everyone has to have a starting point – for instance, I think it's interesting you included a chapter on page-turners in the book. Why such a detail?
It's a person who, in the best way, is not noticed; this is the ideal page turner. It's someone the audience is not aware of as a third person. But really, I could have written fifty pages about this, because so much happens, it's incredible. And I would say it makes a big difference if you are very close with this person. When you have the feeling she or he is criticizing, I've noticed… I have memories of recordings for example, I remember being in Frankfurt with a violinist, and we started with a piece which opens in a specific way, and my page-turner made a certain motion all the time. I said, "Is something wrong?" "No, what do you mean?" "You seem to dislike my tempo in this opening." "In fact I do." I said, "Okay, you don't have to, but don't show me, I'm not interested in your opinion." And it's not comparable to the situation between singer and pianist, but sometimes, if they are young people… they give me an atmosphere of being very interested and enthusiastic about a song or whatever, or, they can be judgemental. But of course I try to give some… humorous episodes. The importance of page-turners may disappear with tablets, maybe.
Or they may vanish because of continued performance restrictions. But perhaps now is also the perfect time for lieder, as you say, what with its mix of intimacy and intensity.
I am fully booked this year, but we are awaiting the next update from the governments in Austria and Germany. I am full with concerts in March and April and May, but we have no idea what is coming or not. It's really frustrating, but I think we have the same situation everywhere. Master classes can happen online but I have in-person ones booked at the Vienna opera studio and in April in Munich. Inside these places everything is working, they are preparing a lot. Some places like Vienna and Paris they may only do one streamed performance and nothing else, like Carmen in Vienna and Aida in Paris – but they're still working.
It's heartening to observe this bit of cultural activity, however limited it is at the moment.
It is happening, and we have the possibility, especially for lieder and recitals, to go to 500 people in Munich and Vienna, maybe, depending on what the governments say. I was in Madrid recently with Jonas Kaufmann, at Teatro Real, and we had 800 people there; it's a ⅓ of the capacity but it is still much better than nothing.
That's a nice size for a lieder concert; the contrast between the immensity of a space and the intimacy of the music can sometimes be jarring…
… Ja, this is true, but the great singers are expensive! So (a small venue) is not practical anymore. When you think about what Schubert wrote, it was for a salon of thirty or forty people, and Schumann as well; the (trend of holding) lied recitals in big halls started very late. Now I've done stuff at the Met, and you can say it's ridiculous, but on the other hand when almost 4000 people are listening to Mahler or Strauss songs… this is great. I remember going to the Musikverein at fifteen or sixteen years old, and I remember very well the recitals by Dieskau, I only had money for the very last row in the Second Gallery; I remember hearing some Schumann songs,and it being the very first time to do so, in this recital. This is almost sixty years ago now. I would say I was about eighty meters away from Dieskau, and… it worked. It was totally fascinating. So of course Dichterliebe or Winterreise were not written for a huge venue. But, on the other hand, when let's say, famous people who must be paid, sing for, let's say, Carnegie Hall and 2000 people, and there are five listeners there who say, "Oh, this was so exciting! I see there is in Alice Tully Hall an unknown singer but doing the same Dichterliebe; I want to go there"… well, there is progress! (Large venues) are good PR for the art form.
Kind of like live-streams; they're not at all ideal but they're PR for the art form, however temporary.
There is more music in private homes now – perhaps there no chance for anything live, only to put on a CD or to get concerts live-streamed… and this is better than nothing. So (the exposure) is, for this (classical) part of the world of music, a good thing. For now!
The Opera Queen is entirely self-funded.
If you would like to make a donation, please go here.